Commercial ⁄ Industrial Services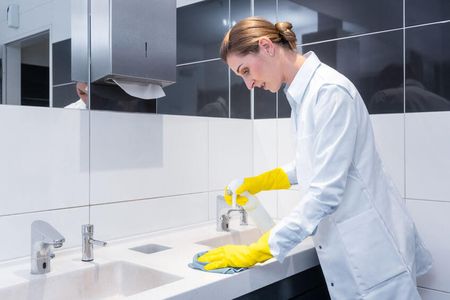 We offer daily, weekly, bi-weekly, and monthly services (or any combination of these) as well as scheduled deep cleaning. Because we understand what it takes to run a successful business, we offer flexible scheduling for all of our clients.
If you are interested in any of our services, please contact us. We would be happy to set up a consultation to discuss your needs and what we can offer you.
We offer next-day and rush services. Call (480) 993-7263 to schedule a cleaning or for a free estimate.
→ Medical & dental office cleaning
→ Post-construction cleaning
→ Professional deep carpet cleaning
→ Cleaning & maintenance of all flooring surfaces
→ Floor stripping and waxing
→ Tile, grout, wood, concrete
→ All surfaces disinfected
→ Floor sweeping, mopping and polishing
→ Commercial Solar Panel Cleaning
→ Ongoing janitorial services
→ Specialty floor cleaning (including Marmoleum)
→ Bathrooms completely sanitized and disinfected
→ Furniture dusted and/or vacuumed
→ Shutters, mini-blinds, and screen cleaning
→Water damage restoration
→ English speaking professional cleaners
→ Final cleans for new/remodel construction